Site Plan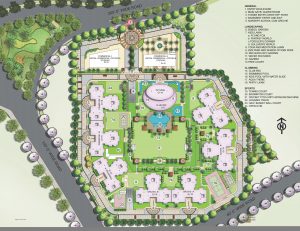 Specialized designer landscaping allows you uninterrupted, landscaped greenery, on the ground level. An assortment of scent gardens attract butterflies and hummingbirds.
Jogging Tracks and a large swimming pool will add further panache to the design of green clean living, in addition to half basketball court, cricket pitch, badminton court, swing lawns, kids' lawns and a sprawling central park.
Indeed, your home is thoughtfully ensconced within these tranquil environs and you have the window seat to the world's finest green views.