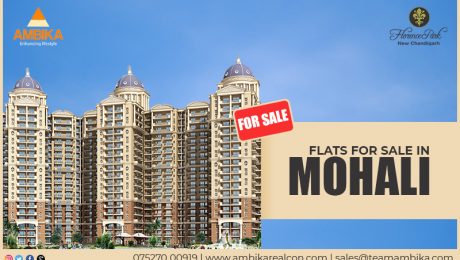 4 bhk flats in mohali are the best accommodation option, for the one who has just started the career and have moved to a big city. It's very important to take a wise decision while investing hard earned money in the property. Before buying 4 bhk flat or 3 BHK Flats in Mohali, it's important to consider all the pros and cons. An apartment property always comes with more amenities, such as security, ample parking spaces, power back-up, water systems, and fire safety mechanism.
4 bhk Flats in Mohali | 4 BHK Flats in Chandigarh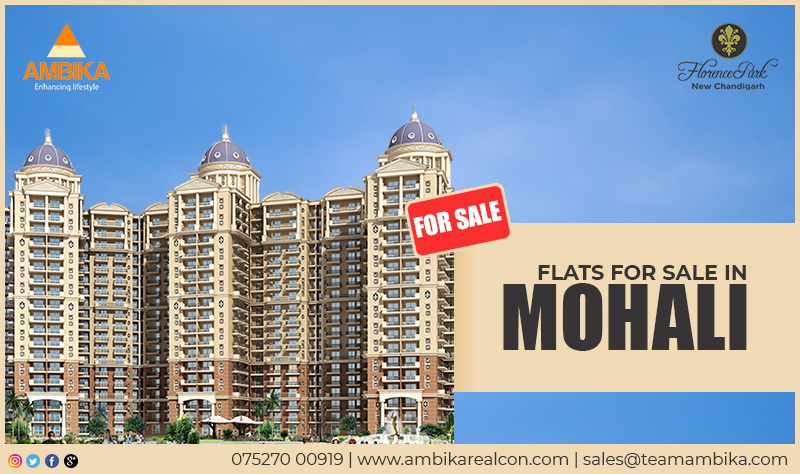 But when you are looking for an independent house, more responsibilities, come into action. This would include setting up of small power back-up, your own water mechanism and security. So it's always better to look for a 4 bhk flat. In case you are looking for ready to move 3bhk or 4 BHk Flats in Mohali, it's better to meet Ambika Realcon. Right now Ambika is working on its new project, which has been named as la Parisian. The project has been equipped with every modern and world-class amenity that is best in service and quality.
The Reasons To Choose Mohali For 4 bhk or 3 BHK are:
1. Prime Location (Mohali):
La Parisian is situated in the heart of the city near airport road Mohali. In case you are starting a new job or need to be in the city centre, then the apartment is likely to suit you better than a house. The project is in a desirable city location from where everything is quite close and near.
2. Mohali Flat Provides Best Amenities :
Many people love to have a home with a swimming pool, gym, and tennis court, but the reality is it's very difficult to afford it Here is the best education center in this city. The great thing about this project is its luxury amenities that are enough in number to attract clients. There are swimming pool, gardens, tennis court, lifts, club house, play area and lot more other amenities that are best in class and service. These first-rate amenities are enough to make the residents feel luxurious.
3. Feel safe and secure in Mohali flats:
When one is looking ready to move ultra luxury 4 bhk flats in mohali, the main point to take in consideration is safety. Whether the apartment one is looking for is safe and secure. With Ambika, you will feel safe and secure. There is a proper arrangement of cameras and security guards. It is basically going to be a gated complex.
4. Good construction quality Flats:
The construction quality of the project is one of the main features that is setting this premium projects apart from the other. Everything from architectural makeovers to the quality of raw materials used to the design rebuild is superior and high. Best Engineers and modern and top-notch technologies have been used in establishing a residential project. Moreover, the project is quite very spacious and sophisticated design.
It's better to opt for Ambika due to modern architectural layouts and eye-catching designs which can enhance your living experience.
The Advantage of Buying a Flat in Tricity
Life in Tricity is full of vigor and adrenaline. The environment here has proven to be one of the best in the country. The city is green and clean. It offers a safe and secure social life and there are plenty of employment opportunities to explore.
The above reasons are just the tip of the iceberg. Tricity holds many surprises in terms of quality of life and opportunities for employment. These are some of the reasons why it is advantageous to buy a flat in Mohali, Chandigarh, and Panchkula or within their vicinity. A number of housing societies offer 3 BHK flats in Mohali and also large spacious 4 BHK flats in Chandigarh. The choices are many. flats of different size, configuration, and location are easily available for purchase in Tricity.
Accommodation in Tricity
Most township projects have different variants in terms of home size and the number of rooms available. A lot of projects mostly have 4 BHK flat that caters to the need for large families. Amongst the notable housing project that is worth a mention is the La Parisian in Mohali by Ambika Builders. This exclusive Paris styled township showcase the gothic European architecture within interiors and exteriors. There are countless amenities and conveniences at La Parisian that should make you more decisive about selecting one of the nice 3 BHK flats in Mohali. Of course, there are numerous other options and you can delve in deep in order to know what the most suitable deal for your circumstance is.
The 4 BHK Advantage
For big families selecting a 4 bhk flat in Chandigarh is a good idea. Why 4 bhk, because such configuration would provide ample space for the whole family without any crunch. In fact, it is very convenient when the guests arrive and would stay in for a few days. You have extra bedrooms to accommodate guests and do not have to worry about the space. The La Parisian and Florence Park by Ambika Builder provide such housing where space is no problem. Wide spacious living room, bedrooms and enough number of bathrooms will make life much easy.
The 3 BHK Advantage
There are other families who may settle for a little less than 4 bhk flat. If one family can manage they can for opt for excellent 3 bhk flats in Mohali or other areas of Tricity. There is no dearth of quality housing depending on your investment budget. Most builders offer three-bedroom combination as it is in the highest demand. It is an appropriate option in terms of accommodation and space. In the New Chandigarh area, Florence Park in Mullanpur is best recommended as it offers more value for your money. The 3bhk flats here are not just economical they also offer larger space in terms of area and utility. The balconies are roomy and sipping your cup of tea with a sprawling view is really the dream come true situation for any family or investor.
Even La Parisian in Mohali offers elegant 3 bhk options that are airy and well ventilated. The project is a big success amongst the people of Chd, Mohali, and Panchkula. Why? Because La Parisian architecture is modeled upon the city of Paris, and more typically on the European art & craft. Undoubtedly, it is a premier option for 3 bhk flats.
Things to remember when buying 3BHK Flats in Mohali
Whenever you decide to buy 3bhk flats in mohali there are numerous aspects that need proper attention. One must pay attention to some unique Terms & Conditions that needs a clearer understanding before you make the final decision to purchase your fantasy home.
The charges for car parking
Always make sure to have a clear discussion when it comes to the charges for car parking. In most cases, the charges for car parking allotment is over and above the cost of your flat. Often this cost is in lakhs and therefore an extra burden on your investment plan. Make sure that you have a clear understanding of the cost of car parking in your new housing society.
Location preference cost
The cost of a certain flat will vary as per the location and view. There are certain home in a housing society that would have a better view, less noise and more proximity to the conveniences. Chances are that such flats would cost you more because of their location advantage.
Society Maintenance
People may believe that everyday maintenance and utility services of your society come without any add-on cost. That is not the case. In most cases one must pay for the society maintenance cost, usually charged on an annual basis. This would cover daily services like waste management, water supplies, garden maintenance, security, etc.
Stamp Duty, VAT, Registry and Service Tax
During the time of purchase, the quoted cost for a flat excludes state and central government taxes. This amount to a lot and buyers must be ready to afford this cost at the time of purchase. The state service tax in Chd, Punjab, and Haryana is anywhere between 5-10% of the cost of your property. The stamp duty for registration of property is 4-8% and an additional 1-2% as the registry charges. On top of all this, the Value Added Tax (VAT) is a further hole in your pocket when you are buying house in Tricity.
How to beautify your new 4 BHK Flats in Chandigarh or 3 bhk flats in Mohali
Once you have got the possession of your 4 bhk flat in Chandigarh it is time to make it cute and beautiful. While there are hundreds of tips to enhance the look and feel of your home we would like to make some important suggestions.
Wall Painting
Painting your new home from inside and outside will change the entire feel of your property. On the possession of your house, you are likely to get the standard paint color offered in a raw house. It could be manageable unless you want a revamped look of your dream home. Painting the exterior and interior of your flats as per your taste and personality is the first step forward.
Indoor Plantation
The greenery factor in your property is ideal as per Feng Shui and the age-old Vaastu Shastra on Hindu scriptures. Decorating your property in chandigarh with hydroponics, creepers and exotic flowers will completely revamp the look and mood of your property. Plants at the door entrances, balcony and indoors will add the cherry on top when it comes to home decoration.
Wall Decoration
Most likely the walls of your new 4 bhk will be bland, that is, just plain. Besides the idea of painting your wall one can go for entire wall art to change the tone of your place. You can go for the Wallpaper finishing that will change the way your home will look. The color, texture, and finishing will give it a completely new look. On the other hand, if you are classy then using painting or captivating art on the wall will give a lot of joy to oneself. We all love good art and showcasing your interest on your wall is just the right way to make your flat more beautiful.
Furnishing & Lightning
The interior decoration of your house depends a lot on the furnishing material. Modular and classy furniture and upholstery bring wonder to the feel of your home. Same goes for home lighting. Elegance in lightning (neither too bright, nor dark) will be crucial when it comes to beautifying your new home.
By taking care of these small things will make your home purchasing a better experience. How to get the maximum value out of your investment is determined by all the above factors. It is also important to make sure your investment is guided in the direction where there is no wastage of money and resource on unwanted things. Whether 3bhk or 4 bhk flat, how you upkeep your property makes up the real value of your property.