In the words of the prominent writer,"Home is a place you grow up wanting to leave, and grow old wanting to get back". No matter what 'home' means to you, there is surely something nostalgic about the place we call home. It's the place where we eat, the place with friends and family, home decorations that help us to remind of special memories and it's the place we make our own. Sometimes in life, we could use a little reminder of how it feels to be home, to come home and to leave home. In short, home is a place where are dreams reside. Everyone has a picture of a dream house or the house he or she wanted to have. Now your dream can turn into reality with the help of leading real estate that is Ambika Realcon Private Limited.
Ambika Realcon private limited is a real estate developer based out of New Delhi and having the corporate office in Chandigarh. They are planning to develop real estate projects across north India. The motive of Ambika Realcon is to deliver beautiful homes on time.
Ambika Florence Park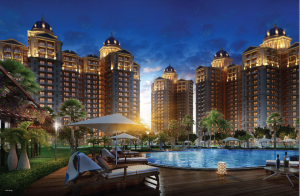 Ambika Realcon Private Limited has come up with its new project which has been named as Florence Park. Ambika Florence Park is a great idea that has been designed keeping Italian masterpiece in mind and excellently incorporated in Mullanpur also known as New Chandigarh. Due to its amazing decor and best locality, it is getting all the attention.
Ambika Florence Park is a multistoried freehold 2bhk and 3bhk flats which give the best construction and has been spread over acres of lush green majestic in Mullanpur near Chandigarh. Ambika Florence Park has luxuriant landscape under the building blocks and stands tall and resplendent in the heart of the city like a jewel in the crown.
Key features of Florence Park:
1. Lots of windows to let in natural light.
Adding ample lighting fixtures is important too. Ambika Florence Park will be equipped with a good number of windows that will make you interact directly with nature. We will even add a skylight or solar tube if a traditional window won't work in a certain space. There will be windows or skylight to areas like the bathroom and closet so you can see how your hair, makeup and outfit look in natural light before you leave the house.
2. Giant parking areas:
Planning for parking facilities is a complex activity that requires the collaboration of many professionals for a successful outcome. Parking as part of an overall transportation system is one of the crucial issues of our times. As the number of automobiles increases exponentially around the world, the need to house them in close proximity to destinations creates a challenging design problem. This is a very complex challenge. But because of our integrated design approach, the parking problem has been sorted out. Due to our integrative structures, you can easily park as many automobiles as you want.
3. Sewerage Treatment plant:
Our earth is surrounded by 70% of water. Out of which only 2.5% is fresh water. 70% of this fresh water is frozen in Antarctica and Greenland. Therefore, only 1% of water is available for our usage. We use water in our daily life for almost everything such as cooking, washing, bathing, toilet, etc. We respect our resources and customers therefore we believe in recycling water for any purpose. Florence Park will have a sewerage treatment plant to treat sewage and reuse this treated effluent for washing, floor cleaning etc. This procedure will include removal of contaminants from the waste water basically from the household sewage. Further, it will undergo all the chemical, physical and biological procedure to remove these contaminants and give out an environmentally safe treated effluent.
4. Solar Powerplant:
Ambika Florence Park is a green building with 30% Roof Top with Solar Power Plant that contributes good amount of energy required by Florence City. Solar panels generate free electricity by converting sunlight into electricity or transferring the sun's heat to heating and ventilation systems. The use of solar panels to generate energy provides many benefits, which include reductions in the costs associated with generating electricity. Solar panels also provide pollution-free power sources and afford new levels of independence to energy consumers. Design of Ambika Florence Park is totally environment-friendly.
5. Power backup:
Power outages affect all people in our daily life in a variety of ways. There are various reasons causing power outages but the end results affect almost everybody in our community. But why should our work suffer because of power outages. Ambika Realcon care for our customer that is why Florence Park will be equipped with suitable giant power backups so that our customers don't have to suffer. We respect the fact that how important the work is and believe us we will not let you and your works suffer.
6. Jogging Track:
Jogging helps build leaner and stronger muscles and even contributes to the strength of bones. It improves the functioning of the cardiovascular system and helps you maintain a healthy body, but, running and jogging on bad surfaces can also result in unwanted health problems. While running, leg joints suffer from the high impact as your feet hit the ground with force. Running on surfaces such as tar roads or stony pathways may lead to musculoskeletal stress and fatigue. It may even cause injuries to your joints and ligaments.
Ambika Florence Park, Punjab has specially designed jogging tracks, keeping the requirement of joggers in mind. Besides being excellent at shock absorption, these surfaces also offer anti-slip features. Florence park jogging tracks are easy to clean and virtually free of algae growth, making it a complete package of safety, performance and durability.
There are more to the list.
Don't think too much to visit our office or you can grab all the useful information from our website and give wings to your dreams.
New buyers who want to consider New Chandigarh flats for a future home or for investment purpose have a great option with Florence Park residential society. Close to town and yet far from the noise and pollution makes Florence a perfect place for living.