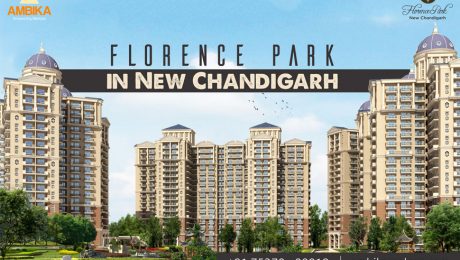 Coming back to your home after a long day of work is possibly the best feeling in the world. It often becomes quite strenuous to find your dream flat that better suits your budget and matches up to your requirements for amenities. But with Florence Park, nothing seems to be difficult. Flat prices in New Chandigarh can sometimes weigh quite heavy on your pocket when looking for something a little more top tier. But Ambika Florence Park New Chandigarh makes possible for anyone to buy his or her dream house.
With years of expertise in construction technologies, Ambika Realcon Private Limited has laid out ambitious plans to develop world-class flats in Mullanpur, also known as New Chandigarh. The upcoming project speaks volume about the company's promise of quality; this township shall offer top-notch facilities & amenities.
In the words of a famous writer,"A house is made of bricks and beans but a home is made of hopes and dreams"
Ambika Realcon Private Limited has come up with its new project Ambika Florence Park New Chandigarh. It's a new concept with Italian design kept in mind and excellently incorporated in Mullanpur also known as New Chandigarh. Due to its amazing decor and perfect locality, it is getting all the undivided attention.

Ambika Florence Park is a multistoried freehold 2bhk and 3bhk luxury flats which provides the world-class construction and spread over acres of lush green majestic in New Chandigarh. Florence Park has luxuriant landscape under the building blocks and stands tall and resplendent in the heart of the city like a jewel in the crown.
Ambika Florence Park New Chandigarh – Why choose us?.
The best place to laze:
It has been rightly said by someone, "There is no greater wealth than peace of mind". Ambika Florence Park New Chandigarh is surrounded by lush and flourishing gardens where you can enjoy the beauty of nature and can feel the fresh breeze. Florence Park really justifies its name as Florence means flowers; you will find variation in flowers in society's garden. There are the Zen garden, meditation lawn and Boboli garden each is decorated in a unique manner. You can take your kids to the garden to play with them. Zen Park is best for senior citizens. Ambika Florence Park New Chandigarh gives you a new reason to celebrate happiness.
The best place to relish:
Ambika Florence Park New Chandigarh does have a Club named IRIS that is best for the person of any age group. A club is basically a place where one can easily spend his time by engaging in different activities. It is an integrated Complex where you will find a gymnasium, spa, pool, Kids pool with slides. Not only this but there is also a table tennis room, card room, Pool room, chess room, carom room, Restaurant cum Banquet hall, children playroom, Children library. We at Ambika Florence park new Chandigarh care for our customer that is why we provide you by giving many services under a single roof.
Hi-tech security and care:
Ambika Florence Park New Chandigarh is a ruling gated community eloped with trees, parks and beautiful roads, providing its customers the best and finest. Keeping in mind the security of clients, the complex will boast of 3 tier security controlled gateways for bicycles and pedestrians. There is a proper arrangement of security cameras and security guards at every entrance to ensure proper safety. In fact; here you will feel the safest and most cared. At the end of the day, the goals are simple: safety and security.
Kid's play area:
Isn't it a lot more comforting to think that your children are at the playground that is clean and safe?. In New Chandigarh, Florence Park offers just that with its advanced safety flooring surfaces.
Its state-of-the-art technology provides excellent impact absorption, reduces the risk of permanent injury by cushioning the fall as it occurs. It means that your child will not be one of the hundreds of thousands of children that fall victim to hazardous and unsafe grounds resulting in severe injuries, every year.
Falling isn't the only thing that could potentially become fatal to your children on the ground. Hygiene goes a long way too. That's why our playground flooring surfaces are easy-to-clean and maintain, and completely weather-resistant. Our(Florence Park) playground surfaces can be ready for use soon after a heavy rain and do not hold contaminants such as animal waste, glass pieces, wood chips, nails, or any other substances harmful to children.
We understand and value your concerns, which is precisely why Ambika Florence Park New Chandigarh Punjab offerings are more than just flooring beneath your feet. Our products are developed with care and expertise, so that your children will be safe, always.
Florence Park Chandigarh SPECIFICATIONS: – Flats In Chandigarh
It is an earthquake Resistant RCC Framed Structure.
An Appropriate finish of Texture Paint of Exterior grade.
Flooring is made up of Premium Vitrified Tiles.
Plastic Emulsion paint has been used on walls and ceilings.
Modular  kitchen Cabinets of appropriate Finish
Highly spacious balconies to let the fresh breeze come in.
Three lifts including One Service Lift of Premium Brand to be provided in each tower to access all the floors.
PVC Concealed with Conduit i/c copper wiring
Electrical point for Split type Air conditioners in every room.
Protective MCB's. Electrical points for Kitchen Chimney & HOB.
Underground water tanks with pump house &tube well facility.
DISTANCES from new Chandigarh:
8 Mins Drive – PGI & Punjab University, Chandigarh
12 Mins Drive – TAJ, JW MARRIOTT, Sec 17, Sec 35, Chandigarh­­