The search for green homes and energy-efficient homes has grown exponentially as the modern choice of people around the globe. Buyers today invest in homes that cause minimum damage to the environment and healthy to live in.
The concept of green homes is based on effective and optimum utilization of resources and reducing the carbon footprint by minimizing the wastage of resources. Conservation of the planet has always been the key reason to go green. However, when it comes to green homes there are many other reasons, such as financial impact, impact on health and numerous lifestyle benefits.
Things to look out for when buying a green home: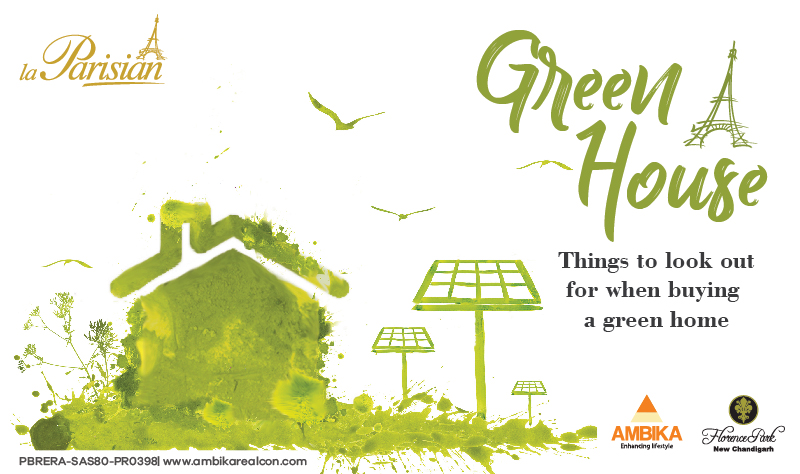 A sustainable material – While screening the realtors, enquire about the environmental friendly building material they use for construction. Building materials that are made with recycled content and renewable resources such as, ACC fly ash based walls and RMC, not only reduce the environmental impact but also improves the indoor air quality by reducing the contaminants.
Solar panels – In real estate, the solar energy potential seems to be growing due to its preference amongst buyers as the very first mandate for a green home. Active solar technology is useful in converting solar energy into useful energy like electricity and water heating.
Consider the property – When looking for a green home, consider the building design and property. Features to be considered are:

Exposure to direct sunlight for natural lighting.
Provision of ventilation
Well maintained outdoors such as parks, gardens, green rooftops, etc.

Energy-efficient solutions:  Check the energy potential of your future home by screening the energy-efficient solutions opted by the builder e.g.

Lights – Look out for building projects using low energy lighting system i.e. use of LED's and solar-powered street lighting. Usage of LED's lighting is becoming the preferable source of lighting from both energy conservation and saving on electricity bills point of view.
Windows and Doors– To increase the green quotient of your home look out for energy-efficient UPVC based windows and doors that can bring in more light and provide insulation against noise, pollution, and rising energy costs.
Sewerage treatment plant and Rainwater harvesting system – Look out for green aspects like sewerage treatment plants and recycling of the water for horticulture and Sewerage.
There are many eco-friendly aspects of a green home and each aspect has a valuable impact on the environment. The benefits of green homes include:
Reduced waste
Better indoor air quality
Lower operating cost
Conservation of eco-system
Higher resale value
Our house in Chandigarh are more than bricks and wood. They reflect our values and beliefs. We at Florence Park Home take care of all your green home requirements and help you in reducing your environmental footprint. Florence Park in City of New Chandigarh (Punjab's first Eco-Town) is surrounded by lush green area on foothills of Shivalik and has a lot to offer as a green building.