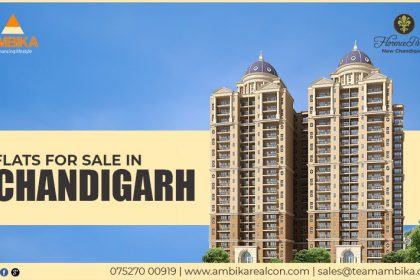 Beautiful City Mohali in recent times has become one of the leading financial and industrial centers in India. Both Mohali and Chandigarh are relatively juvenile when they are compared to other cities like Delhi, Mumbai, and Hyderabad. These Cities are also in a lead in the luxury retail space for households. The concept of comfortable flats in Mohali has contributed to the good modern retail space in These cities. If you are searching flat then your hunt ends here Ambika provides the best 2 Bhk luxury flat ac for sale in sector 66b. There are many real estate developers that provide flats for sale in Chandigarh, but Florence Park is best when talking about 3bhk & 2bhk flat in Chandigarh. It's difficult to find apartments at good rates but Ambika experts in providing flats for sale in Mohali.
Flats In Mohali | Apartments For Sale
In the last few years, the city has got vast boost due to the fast connectivity through well-maintained roads and enhancement in public utility infrastructure and self-sustained townships. Mohali Flats have been planned in advance to cater to residential developments. In case you are looking for Mohali flats then no one could be better than Ambika. It offers unique and luxurious apartments.
Moreover, the City has a good mix of both commercial and residential projects. The City offers a good chance for retailers in long run as location decisions in the retail sector are difficult to alter because retailers have to either make economical investments to buy and develop real estate or perform to long-term charter with constructors.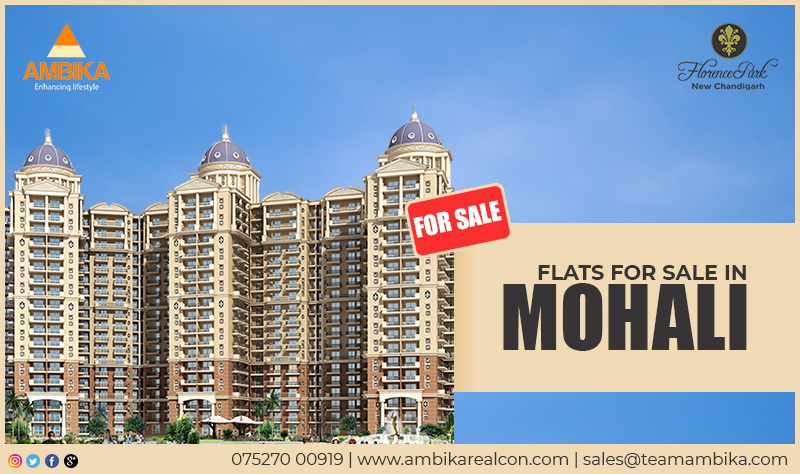 The City offers a wide range of independent flats in Mohali which suits your budget. The future of the retail sector seems to be encouraging, considering the improvement of the market, good technologies aiding operations and favorable government policies. Large juvenile manpower, small families, growth in working women population and blooming chances in the Chandigarh seem to be key for the advancement of the retail sector in the city. Chandigarh will continue to attract a good number of global retailers as both cities have the presence of the right target catchment as well as good real estate chances.
Most probably, spacious markets and provisional stores will continue to expand and locate on other residential developments. Service groups like food and drinks and fine dining in specific will continue to find backing in this- ever-enlarging area. If you are looking flats for sale in Mohali then your hunt ends here Contact us: +91 7527 000918 now for the best prices.
Flats for sale in Mohali sector 66B
Looking for a 2 bhk? Ambika Realcon has some select options for you to choose from. A trusted name in the housing and real estate sector, it is one of the most reliable real estate company. Finding your favorite house on sale in Mohali with all amenities, 24 hours security and affordable luxury is made easy. You do not have to waste your time in finding the best deal for your house. We have the best prices that fit well within your budget.
2 Bhk Apartments for sale
With the entry of It city and an International Airport to its cadre, Mohali is one of the prime cities that people are choosing to live in. Developed on the lines of Chandigarh, it is a planned city that is spreading itself, welcoming a large number of people to settle and live in this peaceful abode. There is a rise in the number of flats in Mohali for sale, which directly coincides with the choice of people to make it their new house. There are a lot of options to choose if you are looking to buy yourself a 2 bhk or 3bhk house in this city. The city is advancing through the phase of commercial growth leading to a rise in demand for more residential options as well.
Reasons to choose Flats for sale in Mohali Sector 66B
Existing physical and social infrastructure along Chandigarh and Mohali coupled with ongoing and proposed apartments are likely to drive customers. Chd can be considered as the rising site for the retail sector in the coming time. Ambika Realcon Pvt Ltd. is one of the leading real estate developers that provide integrated township in the both City.
It offers unique and luxurious flats in Chandigarh. In case you are looking for flats for sale in Mohali, no one could be better than la Parisian. Due to the high property rates in existing commercial cities, it has emerged as the best option for home buyers that desire state-of-the-art infrastructure and facilities without paying extra amounts for real estate. Some of the benefits of choosing Ambika as your real estate developer are:
1. Covers huge area:
Its new projects Florence Park & la-Parisian has been spread over many acres of land near CHD. The new project in sector 66B Mohali deals with 2Bhk and 3 Bhk luxury flats for sale in Chandigarh. The project is situated near CHD which creates huge commercial synergy. The whole area near the project will soon emerge as a huge business hub.
2. Amazing connectivity:
The project in sector 66B is situated at the heart of the city due to which it enjoys the amazing connectivity with National highways, IT Park, Hospitals, colleges, supermarket, Schools and a lot more. Not only this, the project is only a few km away from the airport.
3. Best Infrastructure:
It has been constructed according to the needs and requirements of house holders. The infrastructure of the building is modern and unique. There is also a large lush garden, meditation lawn, kid's playroom, jogging track and a lot more. flats in Mohali offers superior quality in design & construction. The structure is best for its design, layouts, open sources and quality of construction and amenities.
4. Ample amenities are available:
This residential project offers world-class amenities for your entertainment and peace. There are a good number of lush gardens, clubhouse, swimming pool, meditation lawn, jogging track, kid's playroom, indoor games, spa, library, Nursery school and a lot more.
5. Affordable rates:
Cost-effectiveness is the biggest benefit that Ambika offers over other retailers in Mohali and Chandigarh.
6. Huge parking area:
Anyone who has flats in Mohali wants to have a good parking space for vehicles. The availability of parking area has become a foremost need in the attractiveness of any residential project. la Parisian provides ample space to accommodate current as well as future needs.
7. Near to office:
The residential project has been constructed in conjunction with other areas in the close vicinity. This opens up exciting chances for entrepreneurs, executives, and professionals who now have the option of living close by and walking to the office every day.
8. Amazing location:
The building constructed on the foot of Shivalik hills. Being located adjacent to such beautiful areas, it will be the natural first choice for all nature lovers.
9. Ready to move in Apartment:
It is providing ready to Move in Apartment in Florence Park. A good variety of apartments are available for you to choose from.
10. High-Class maintenance:
Many skillful engineers & technicians are behind the construction and top conditions of Florence Park. It always attracts a premium over another surrounding apartment. All these main factors are in place and Ambika Realcon is all ready to become Mohali's top real estate developer. This residential project is one of the fastest developing parts near Chd. It makes huge financial sense for businesses and home buyers alike to become an important part of this enhancement story now and safe the first mover benefits for themselves.
2 Bhk flats for sale Mohali
Choosing a well-suited s 2bhk paced for your family? Look no further. This is the best time to invest in a property in the city is on a rise to development and is fast becoming a commercial and residential hub for many. If you haven't already chosen your 2 bhk flat, now is the time to make the most important decision of your life in very easy steps.
Facilities
Apart from the relaxation that comes from buying apartments in Florence Park or La Parisian, being its customer brings with it a huge set of palpable perks too. Mohali flats offer a set of facilities to its customers that they can avail at any time. Some of the basic facilities are modular Kitchens, Power backup, unlimited water supply, Gymnasium, car parking, Lifts and a lot more. Homeowners can enjoy any of the facilities without giving any thought.
The main aim of La Parisian is to re-balance life and create an environment of calmness and peace for its residents. It is a Gated community surrounded by open green areas. It brings out the best parts of concurrent urban living without the tension and ill health normally associated with big cities.
Safe and Secure Building
This is the best project of perfection, it's in the best area where homebuyers can choose and control the type of life they want to live. And with the expertise of a master developer, it has created the best balance of progress and advancement.
The building is safe and secure– for children, adults and senior citizens. flats for sale in Mohali (La Parisian) have a proper arrangement of security guard and security cameras. Kids can play around without worry, women can safely roam around. Enjoy your freedom without any worry and stress.
Moreover, the fresh air, the pure water, car parking, the maintained roads, the giant parks – everything in Florence Park is clean and healthy. Positive energy and sound health have become features of the Florence lifestyle.
RESIDENTIAL FLATS AT AFFORDABLE PRICES
Spending on a new house is one of the most important decisions of one's life and is apparently a belief one have been developing since a very young age. Home is one of the basic necessities of man's life. It is the deep aim of every individual and family to own at least an apartment in the preferred location. If you have not yet purchased any house, there is no need to anguish at all. Ambika Realcon a leading real estate developer has come up with affordable 2/3/4 bhk luxury ac independent apartments for sale in Chandigarh at affordable prices. Now every lone family will have the golden chance to become the holder of different flats for sale in Chandigarh.
Flats for sale in Chandigarh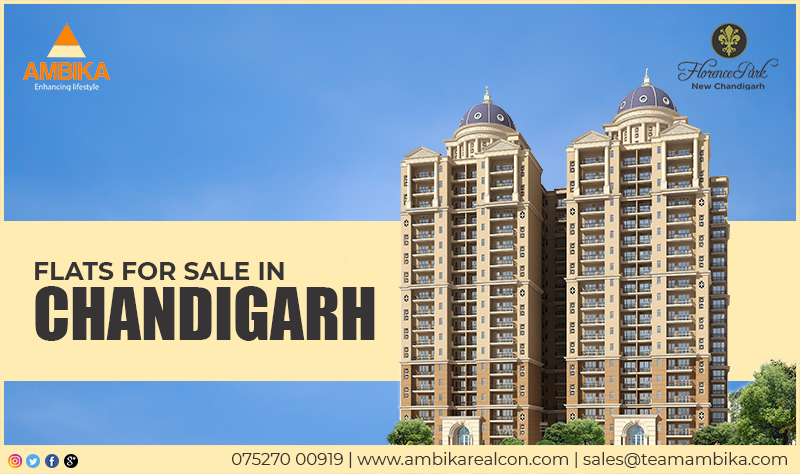 Do remember living is not only restricted to the four walls of your home. What is around your home is much more important. A lush green garden, the quality of the road in front, availability of school – these are a few things that can raise or sap your feelings at home. Ambika have thought about all these matters.
It does not only deal with the building and selling flats for sale in Mohali sector 66B. Rather it creates and provides a luxurious lifestyle. When you take charge of your home, it should be complete in all ways and it should reflect your taste and needs. That's what it does for you. It relieves you of the inconvenience of hunting vendors and workmen and delivers an ultra-modern flats for sale in Chandigarh.
The beauty of the service is the comfort and convenience it provides. It has designed everything according to the choices in all the areas that customers usually get done on their own. These include modular Kitchens, Wooden flooring, Wall paint, Wardrobes, Lights, Bathroom, independent builder floor, car parking, power backup, balconies and a lot more.
Affordable Flats for sale Chandigarh
Home is an important area where people are able to go back. We believe in giving best to their customers our team knows how much important a house can be for any family. But with Ambika, you need not worry at all. Our team deals with the sale of luxurious and comfortable Property for sale in Chandigarh at affordable rates.
One should not skip the golden opportunity to buy the attractive 2bhk, 3 bhk flat in Chandigarh. There are many advantages of owning your own apartments. It is indeed a matter of proud to become the holder of apartments in Chandigarh – the beautiful city in the country. There are many good reasons that will encourage you to buy apartments in Chandigarh. Some of the major reasons are:
1. The capital of two states:
It is a union territory governed by the Central Govt. Chandigarh is the capital of two states i.e. Haryana and Punjab.
2. Planned city:
Mohali is the first-ever well-planned city in India. The town planning is done in the proper manner just to avoid the undesirable obstacles occurring due to natural hindrances and manual activities.
3. Tri-city:
The neighboring cities of Chd, Panchkula, and Mohali together form the 'Tri-city'. It has been noticed that expansion and advancement is the ongoing process in the city as a result it the rate of the property is continuously growing.
It is indeed a very valuable choice to make the investment in buying Chandigarh or Mohali flats in sector 66 (international airport road) – Buy flats in Chandigarh.
Ready to move flat the residential projects of Florence & la Parisian include 1 BHK, 2 BHK, 3 BHK, and 4 BHK ultra-luxury ac independent Chd & Mohali flats with fully world-class amenities. The Benefits of buying an apartment in Chd are high in number. It gives you the feeling of staying in a five-star environment at home.
Buying a 3bhk or 2bhk flats for sale Mohali or Chandigarh will give a better appreciation on your investment. Usually, properties having sky-high rates in Chd compel most home buyers to look at the apartment as their preferred choice. If you are thinking to stay in Mohali Best education center near Chandigarh.
Ready to Move Flats For Sale Chandigarh
Any buyer wants to play secure and will spend his money probably on ready to move flat. If you are able to buy an apartment that is nearing completion, then there is an added advantage as you will be able to get an exact idea of what you are buying space, ventilation, outside, view, independent builder floor, and more. You cannot do this with sample rooms and project layouts on paper. Any project that is at an advanced stage of construction brings down the risk and also the cost, to an extent.
2 Bhk Apartments/ House for Sale Mohali
Are you looking for 3 bhk flats in Chandigarh? Ambika offering 3bhk & 2Bhk house for sale in Mohali sector 66B (international airport road), which has all modern world-class amenities. 2Bhk ultra-luxury House/flats for sale Mohali come with added values, such as security, enough parking spaces, and fire safety mechanism. 2Bhk flat in Chandigarh has other facilities with their rooms such as a 24×7 water facility, safe kids playing zone, ample parking space, and clubhouse for different indoor activities. Ambika is offering a wide range of apartments for people with different needs. Their range starts from the budget segment 1bhk & 2 BHK  room and ends with premium 4 BHK, 3 BHK or 2 bhk ultra luxury independent Flats for sale in Chandigarh.
Independent House For Sale in Mohali Sector 66b
Getting your own home is one of the most ambitious basic drives that we all possess. When you search for a house for sale, you will be transfixed with so many options that are varying in size, price, and location. To own your place in a prime location of Mohali must be your main target. There is numerous independent house in Mohali and this blog will help readers to ascertain their decisions to buy a house for sale in Mohali.
Sector 117 in Mohali is one of the upcoming residential destinations of Tricity and there are hundreds of projects in the fray. Sunny Enclave in Kharar, Mohali has been in the preference list for property buyers over the last few years. The township project provides the option of semi-furnished apartments with numerous options of north-facing or east-facing homes. These independent houses are available for sale at good prices.
Why buying Independent house is beneficial?
You can opt for such type of home in-case you desire below benefits:
Privacy
Privacy is the most desired parameter when it comes to investing in Independent houses. You can live comfortably with your family without having to worry about the breach of privacy by your neighbors.
Customization
You have the freedom to customize your home as per your taste and liking. You don't need to compromise on a certain design, furnishings, colors in this type of property. Remodeling and redesigning can be done depending on your individual needs and taste.
Outdoor space
The availability of outdoor space is another advantage of this type of residential property. You can create a beautiful garden by planting flowers, trees, and shrubs. It is the best way to be surrounded by greenery and live a quality life. You can raise a pet, live an active lifestyle or spend quality time with friends over a barbecue with the help of extra outdoor space.
Income
Rental income is higher or such property as compared to any other. Hence, it is beneficial for both self occupancy and renting it further.
So if you are looking for a spacious and serene environment and want to experience the self-sufficient way of living, then Independent homes are your best bet. 
House For Sale in Mohali Near Chandigarh
Sector 117 and Sector 125 are one of the demanding areas in the Mohali region where real estate is on an upswing. Which means, the prices of the real estate are likely to go higher once you decided to purchase the house in Mohali. Most apartment societies are managed by reputed builders and they have good construction material to showcase. The architecture and design are in sync with contemporary trends. Both, the interior and exterior features of most apartments in Kharar meet those expectations.
If your plan is to get a readymade house for sale in Mohali then the Landran and Kharar region is one of the most recommended by the buyers. One can get property of their choice in terms of budget, location, and conveniences in a hassle-free manner.
2 bhk house in Mohali for sale
What is the best house to buy? A 2 bhk houses in Mohali for sale or flats for sale in Chandigarh at Florence park is one of the best options if you need a good living space for a small family. Well affordable, high standards of facilities with inbuilt pool and gymnasium and round the clock security and car parking are some of the prime features that you can expect. Fulfill your dreams of owning your own house in a place where you will be proud to raise a family. Where your kids have ample space to play, make friends and grow in a nourishing environment.
Reasons to choose House in Mohali for sale
Real estate on Mohali has grabbed the attention of most reputed developers and buyers. The city is rapidly growing and said to be the next best destination for real estate. It has become an ideal city of Punjab in terms of development, greenery, and infrastructure. If you are looking for quality living at affordable prices then look for a home for sale in Mohali.  The concept of Independent houses has led to the growth of retail space in the city and business possibilities. Let us take a look at some of the major reasons to choose Ambika Realcon:
Connectivity
Mohali has flattering connectivity with adjoining cities like Chandigarh and Zirakpur. Various phases of Mohali are interconnected with Chandigarh. Also, the city has an International airport along with internal connectivity via well-constructed roads.
Affordability
The residential market is ever-growing in Mohali as the property in the region is little light on the pocket of the buyers. The city has a low cost of living as compared to Chandigarh.
Greenery
You can find a luxurious property in Mohali amidst the lush green area and landscapes. The city has well-developed parks and greenery which is a must for a healthy lifestyle.
Business hub
Mohali is gradually becoming the business hub of Punjab with the rise in the entry of international companies. It houses global companies which in turn increases the employment opportunities in the area.
Infrastructure
The city has the finest of schools, hospitals, restaurants and malls. It has the best of transport facilities and on the path of greater infrastructural development.  
Reasons to choose Ambika as your real estate developer are:
The team takes care of all the top-notch facilities in the shopping, fitness and much more.
It offers giant lush gardens and parks.
Offers High tech security.
Offers high connectivity to national highways.