Buying a home becomes a complicated process, especially with the number of myths floating around. Despite the fact that we rarely have any experience in the real estate market, we believe we know about the industry based on the experiences and opinions of our friends, family, and colleagues. With the ever-changing and dynamic real estate market, it is important that we bust the common misconceptions out there.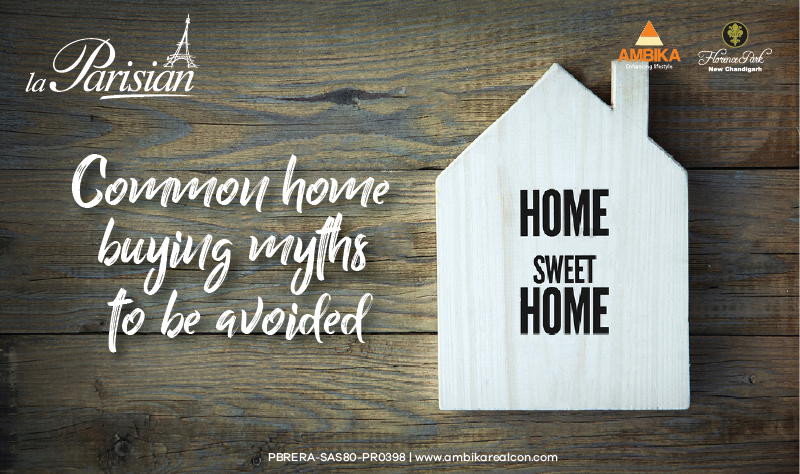 Myth 1: Renting a home would save you money
"Why to buy when you can rent it" could be a viable option for a short term, but if you plan on renting for few years or more, buying a house is more beneficial. While you can always evaluate various buy vs. rent calculators available online, you may not have much of an option if you are living in an area with high rental demands. The renting vs. buying decision is based on price comparisons between property prices, monthly rent, home loan rate, appreciation rate, tenure of home loan, etc.
However, no matter what the calculator says, purchasing a house at an early stage could be the wiser decision. If you buy house in Chandigarh today, within a few years your EMIs could be less than the rent you would pay.
While a decade ago rented accommodation was preferred over buying, however, with the steep rental increases more and more of millennial generation prefers to invest early.
Myth 2: You should wait until the prices come down
Another common myth out there is to wait until the market takes a plunge. However, that may not always be the right approach. The prices may rise or fall but that would not make much of a difference if you have already found a home meeting all your must-haves.
Moreover, till the time you wait for the market to come down, you would be paying rent for months or years when you could have just started to pay off the loan and availed tax benefits, hence, not making a sizeable difference.
The right time to make a move should be based on your financial and personal situation.
Myth 3: Longer tenure of home loan will make your EMIs smaller
Most people believe that the longer tenure of home loan will lead to lesser EMIs and hence lessen the home loan burden. However, you would end up paying more if you opt for longer loan period instead of shorter one. You can minimize the additional cost of a loan by reducing the tenure of home loan. Thus, saving yourself from paying twice of principal amount and interest rate.
Another way of lowering the EMIs is paying more than 20% as down payment, which could also save the interest component.
These misconceptions turn into your internal fears then come between you and your home. It is important that you clear any such misconceptions and do your homework before you buy your dream home. Incorrect assumptions and beliefs can cause confusion and lead to decisions you may regret later. It is always recommended to opt for reputed real estate builders and we at Ambika Realcon ensure to make your home buying experience transparent and secured. New Chandigarh is the fastest growing suburbs. It has the diversified type of residential properties from independent houses, 2/3/4 bhk flats to penthouses. If you're looking for a blend of modernity and comfort then go for flats for sale in Chandigarh and avail the benefit of quality living.