The idea to own 3 bhk flats in Chandigarh sounds promising. However, when it comes to the purchase of the property one does realize that it is much difficult than it appears. The concerning question that comes to the mind of every buyer is the eventual cost and EMI variables that need to be paid.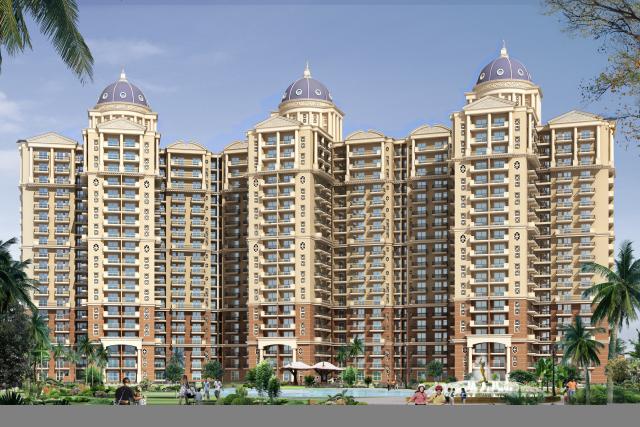 3 bhk Flats In Chandigarh | 2, 3, 4 bhk Apartments for sale
Located in close vicinity to the New Chandigarh, Our dealers are coming up with luxurious fine-featured 3 BHK or 2bhk flats in New Chandigarh. We are one of the most reputed real-estate brands with an enviable track record of 50 years. In other hands, Mullanpur is one of the fastest growing geographies across the city very close to various MNCs, commercial, and entertainment destinations
Right now we are working with its new project which has been named as Florence Park, in New Chandigarh. Florence Park is the outcome of the perfect blend of location, transparency, and reputation.
Florence Park is a multistoried freehold 2bhk and 3 bhk Chandigarh which gives the best construction and has been spread over acres of lush green majestic in Mullanpur.
With the given economic climate, and demising value in currencies only property investment can be deemed safe. With a varied size option between 2BHK, 2BHK plus a study room and 3 BHK in Chandigarh, it is a tricky decision which someone should analyze in details as the investment is for a lifetime. At times, customers face a huge dilemma between 2BHK and 3 BHK flats.
What determines the cost and configuration of a apartment that you want to purchase?
The cost is the most determining factor.
The affordability of the monthly installment (if you take a home loan) is the next important factor.
The location and the ambiance of the property.
The future requirements – having kids and meeting similar domestic requirements.
The above factor will influence the decision of whether to purchase a 2 BHK in Chandigarh or flats with even higher configuration. Even a slight increase in the cost of flats would escalate the EMI, stamp duty and property registration cost.
Now you know the influencing factors that determine the worth of your property. Make sure you consider the above factor carefully and do a thorough discussion with your family members.
Ambika Realcon is a leading property developer based in New Delhi and having a corporate office in Chandigarh. Ambika Realcon has nearly about 50 years of experience in the property business. Our main aim to provide best to their clients by giving them the best-suited home of comfort and luxury in an affordable budget. We deal with the sale of both 2 bhk and 3 bhk.
It's always better to buy 4 bhk or 3 Bedroom flats rather than 2BHK
1. For the Investment type:
If you gain value out of your investment through rent, your target audience would prefer 3 BHK flats more than 2 BHK apartments, moreover, the demand for spacious 3 BHK apartment with amenities for rent will be higher over the next few years. Also, the face that it is relatively east to sell in the future compares to spacious 3 BHK apartments sale in Chandigarh.
2. For the Budget type:
Just buy ready to move 3 bedroom flats in Chandigarh location. Do not worry about the amenities, and you might want to consider the maintenance charges over the next two years before buying an apartment.
3. For practical people:
Sufficient space, convenience for your family under one roof and separate spaces for your loved ones are what practical people look for. Only if have zero intention of selling it over the next few decades, you could gain the value of the interest and maintenance charges that come along with it.
As this is an investment for a lifetime and value will increase over time, make a logical decision on which category you are. It is always advisable to take a bigger house for a comfortable living. It's not easy to find spacious and ventilated 3 bhk flats at the affordable price.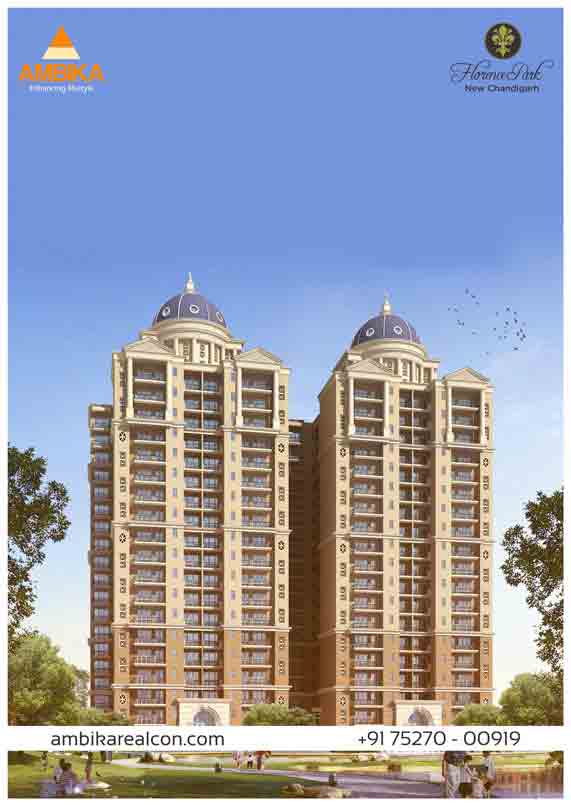 Features of 3 BHK in Chandigarh:
1. Everything is made to perfection. Be it the Mediterranean designed walls or the seating areas.
2. Innovatively designed Infinity Swimming Pool coupled with a Kid's Pool makes it a perfect place to relax
3. Apart from Badminton, Basketball and Tennis Courts, there is around an acre of space for other sports.
4. A prominent residential structure according to its location and conveyance facilities.
5. The architectural design of the structure is according to the modern-day demands.
6. The flats have integrated modern and high-end facilities that confirm the living environment to be comfortable.
7. The price of ready to move world-class 2 bhk, 3 bhk Sale in Chandigarh is according to the trending market value.
8. All Rooms of the apartments will have Direct Sun Light and Ventilation.
9. Extra Spacious Balconies.
10. Wide-span windows, attached balconies, etc.
Ambika Realcon value the comfort and convenience of the customers. Our 3 Bhk flats are spacious, well lighted, and planned as per Vastu. Loaded with ultra-modern features and floor planning, Florence Park is a sublime destination for your kids and family.
Letting you experience pure bliss and step towards your dream home. Our team is offering the best of the living features and amenities. All along with the 3 Bhk flats in the city, you will enjoy the wider corridor, environmental friendly zone with a jogging track and green zone, social corners like party lawns, Swimming pool. Planning to purchase a ready to move world-class 3 BHK apartments in a gated community? Then take a look at Florence Park 3Bhk, 2bhk flats in Chandigarh. We assure complete transparency and on-time project delivery with trust, and faith.
3 bhk in Chandigarh – 3 Bedroom Flats
Florence Park is a project that has different options in terms of configuration, style, and pricing. The project boasts its luxurious 3 bhk flats that are affordable, yet pampered with most modern facilities one can imagine. Project is themed in the beautiful city of Florence, which is the epitome of flowers and water. The project is based on the same theme and redefines the way we are used to an Indian lifestyle.
The Florence Park apartments are conveniently located in Mullanpur. The region is an upcoming township ideal for residential and commercial purposes and addresses the need for spacious living. As the central runs out of enough land for more development, the Mullanpur is region makes perfect sense. The residential township is sufficient with all the modern facilities required for a comfortable lifestyle. The presence of a commercial center, public transport in near proximity and lifestyle comforts like health facility, greenery, and recreational activities makes Florence Park your ideal dream abode.
3BHk, 4 bhk Flat
People searching for a 3 bhk in Chandigarh have to look no further. Florence Park is your new address for affluent living at a fraction of cost. Each home in Florence Park tastefully developed to exceed the expectation of its resident without any compromise with the facilities. For people seeking 3bhk or 2bhk flats in Chandigarh will find Florence Park as the perfect destination to live a peaceful life away from the hustle-bustle of the city.
So what makes Florence Park a choice above the rest? There are ample reasons why this project should be your next home. Foremost, the investment opportunity at Florence Park ensures great appreciation in pricing in the near future. The prices of the project are already escalating by 15-20% per annum and the rise is expected to remain steady for the next few years. This is due to the unscathed rise in the real estate value across the Tricity and its nearby region. Whether you chose to purchase a 3 bhk in Chandigarh or an ultra-modern home then you can expect great ROI on your investment in Florence Park project.
Chandigarh Real Estate Flats for sale
One of the striking features of Florence Park is their ambiance. Each apartment is carefully designed to ensure that it is airy, spacious and welcomes natural light. Moreover, the interior designing is modeled upon Florence city giving it the architectural resemblance of homes from the Italian city. You are definitely going to find the European atmosphere in the midst of Tricity when you go searching for 3 bhk flats. Moreover, the township delivers all the promises for a comfortable home available in a different configuration. If not four-room then you will definitely end your search for a 3 bhk Chandigarh once you take a look at Florence Park. Choose the best and live cheerfully Here is the Best Education Center in City.
Looking For 3 Bhk Flats?
You have been looking at 3 bhk flats in Chandigarh. You have thought about buying one for yourself. The thought seems exhilarating, doesn't it? It actually isn't that tough as well. Until the time comes to actually choose one for yourself. You have to arrange for the finance that is required to buy the flat and also had to go through a lot of advertorials regarding the various options that you can choose from. Also, you have to make up your mind about finalizing a location that well serves your needs. You have to account for the carpet area, like the location, and assess the amenities that are on the offer to be satisfactory.
So, what's the big deal? What more is there to take care of?
Well usually when one accounts for the cost of buying a home, one thinks of a home loan. Now, this term loan is computed in regards to the cost of a home. You select your rate of interest and terms of repayment of the loan and its duration. Also, you must keep in mind the extra charges that you will face like stamp duty and registration costs. These are usually neglected by the buyers and when they crop up at the purchase, they take a dig at the finances. So it is better to be prepared for them and include them while you budget for the house.
Investor or End Buyer
One thing that has to be kept clear in your mind is what are you willing to be the user of the flat that you want to invest in or will it be an investment for the future. Real estate is a sector that is promising and is not prone to steep falls like share market and gold prices. This makes an investment in real estate a better bet.
Size of family vs size of Flat
It is always better to go for bigger flats if it still fits in your budget without squeezing much. In growing cities, it's even better. If you are planning to buy a 2 bhk flat, it is better to go for 3 bhk flats in Chandigarh. This brings down the overall cost in the longer run. Also, a bigger flat will be more practical if you plan to begin a family. The maintenance charges will be lower as you will have a bigger space.
In the case you are looking to sell the house and are only looking at it from an investor's point of view, you have a lot more chances of selling a 3bhk flat in Chandigarh than a 2 bhk. It will broaden your target audience. The other upside of buying a bigger flat is that you have bigger balconies and added space to set up as your green zone in the flat.
Planning for finance?
It is always better to plan your investment in a proper way. You must account in for all the expenses both, one time and recurring. The recurring expense includes the maintenance charges and other miscellaneous expenses that come with buying flats. Also, the better way to plan your monthly installment after the downpayment is to keep it around 40-50 percent of your income. This would help you squeeze in more for your household budget.
You should also keep in mind your retirement plans so that it is feasible to keep the EMI in accordance. To take an example of how this affects your planning consider the fact that if you take a home loan and the installments go beyond your retirement age, your lender will increase your installment to balance the value. So it is always better to keep these details in mind.
Ready To Move 4 BHK flats in Chandigarh
Peace and prosperity are what people long for their whole lives. One finds peace at home, no matter wherever he goes. So, to find peace, one has to have an apt house to go with it. It is time to add class to your living space with these 4 Bhk flats in Chandigarh. Your wait for the perfect solace is over, as the city is all loaded with the ideal apartments. Building dreams and hopes without a dent in your pocket.
You can have access to 4 Bhk flats in Chandigarh without a dent in your pockets. Now owning a house of your own is not a vivid dream anymore.
All these flats have taken safety as their top priority. Trespassers are no longer a thing you should be worrying about here. It is no-entry without prior verification so that no intruders can come around. You no longer have to be worried about your families well being when you are away from home.
It is hardly a run for 20-30 minutes to all the famous places from the locale. 4 Bhk Flats in Chandigarh are decently connected to all industrial areas, markets, office spaces, and malls.
Flats for sale in Chandigarh
The UT is ever developing at a noticeable pace ever since it came into its being. No matter which sector we talk about, be it the industrial sector or the real estate. Flats for sale in Chandigarh are available at attracting prices and the perfect locale with connectivity to all key places.
The societies are covered in lush green grass and covered with beautiful parks for a healthy environment and fresh air. Parks in Flats for sale in Chandigarh have one thing in common they all have jogging paths and swings for children. So with the need of the adults, the needs of the children are also been taken care of.
Moreover, the connectivity that the UT has to all key places is just flabbergasting as all the area concerned with industrial work or the shopping malls is at a disperse of a 20-30 minute drive. The international airport is not far it connects to Zirakpur, Mohali, and Panchkula within a radius of 13kms.
The societies are covered in lush green grass and covered with beautiful parks for a healthy environment and fresh air. Parks in Flats for sale in Chandigarh have one thing in common they all have jogging paths and swings for children. So with the need of the adults, the needs of the children are also been taken care of.
Moreover, the connectivity that the UT has to all key places is just flabbergasting as all the area concerned with industrial work or the shopping malls is at a disperse of a 20-30 minute drive. The international airport is not far it connects to Zirakpur, Mohali, and Panchkula within a radius of 13kms.