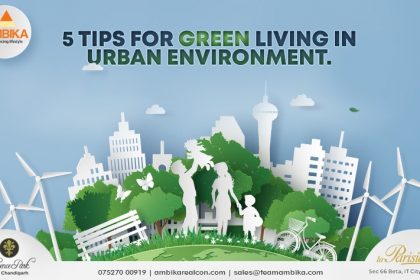 Now day's people are becoming more conscious about the health. Everyone is opting for home that is surrounded by nature. Whether it is gated communities in city or beautiful villas, home lovers today are looking for properties that provide green surroundings. In such scenario, real estate developers are trying their best to meet this demand. Many properties have been equipped by green playgrounds for children, parks for adults and ample ventilation inside the home. Moreover, home owners are also adding natural elements to their homes to feel the fresh air with in the home.
Listed below are some of the tips to follow to go green in urban environment:

1. AVOID POLLUTION:
Fossil fuel vehicles are highly polluting our nature and that directly affects our health. Moreover, it also causes traffic problems, increases stress and reduces quality of life. To avoid pollution, use public transport, or walk. You'll be protecting nature from significant pollution from entering the atmosphere.
2. MAKE BEST USE OF PARKS:
Parks are the best source of fun and exercise. The noise and sights of a city can be devastating. Find a park full of trees and flowers. Parks are there for a reason. Ditch the noise and let the beauty of a park remove your stress and clear your mind.
3. REDUCE THE WASTE:
Recycling is the best way to reduce the waste. It helps to live a greener urban lifestyle. Throw something just as easily into the recycle bin. Please rinse and recycle.
4. COMPOST:
Composting is another method of waste management. It carries food scraps and other biodegradable materials that can be cloned into rich soil. Keep a separate bin for compost right next to garbage and recycling bin.
5. MAKE YOUR OWN GARDEN:
Most apartments have a balcony. Balcony offers to set your own apartment garden. A perk is that it makes your balcony look more beautiful and alluring.
These tips are just few in number. These all tips are practical and affordable. The best way to start is by getting close to the natural surroundings.
The class of luxury and architectural finesses is now provided at La Parisian Mohali – an upcoming residential township. La Parisian promises a lifestyle that feels like being in the European city of Paris and being like a Frenchmen.