Tuesday, 15 November 2016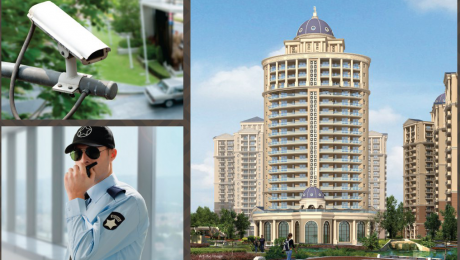 If there is any name that has been maintaining its dignity and consistency since inception, then it has to be Ambika Realcon Private Limited. Real Estate has been its forte empowering every individual to own a dream abode that is achievable. The developer is based out of Delhi while the corporate office is located in Chandigarh. Their ultimate goal is to give a new dimension to the world of real estate in the northern part of India.
The founder Ritesh Sehgal and the co-founder Diwaker Bansal have held their head high for the kind of quality homes that they have been offering for grab at an affordable price within a stipulated time. Their project Florence Park is already in news for their different from the ordinary architectural design that can blow anyone's mind. Apartments in Mullanpur which once were never thought of have come into reality. Of the two projects, Florence Park is almost up for booking.
Incorporated on the 25th of June in the year 2006, it has earned decades to its excellent service. By far, there seems no competition that can withstand the toughness and quality of Ambika Realcon. The developers have invested heart and soul in getting Ambika where it stands today. If you are looking for residential flats in Chandigarh, then Florence Park by Ambika Realcon is what you should prefer owing to its premium lifestyle and modern amenities.
The question why one should choose Ambika and not any other group is rational. There is a rational justification to it too. There are many ace points one will be bewildered to not to consider while choosing Ambika.
All its properties have basic amenities like modular kitchen and modular wardrobes. Can you imagine a posh lifestyle without them?
There is by default state of art gymnasium and sports center
The architecture is not just gorgeous but vastu compliant. Now that definitely talks about the peace and serenity that one can get in Ambika homes
The architects hired to get the final result are highly qualified and skilled with years of experience in their bag
It is located amidst nature
Security is at peak with 3 tier security system that keeps a tab on your safety and security round the clock
What more can one expect out of luxury flats in Chandigarh? Ambika Realcon is a name synonymous to perfect living.
Built across a huge span, Florence Park Chandigarh replicates the architectural brilliance of the city of Florence in Italy. Have you ever come across such a unique residential complex? I am sure, you haven't. It is time to explore a new experience with beauty at its best. Ambika Realcon after having set the benchmark for other real estates in the past has taken a leap with this gorgeous property in Chandigarh city. You will be lured to have a look inside as it is highly impressive in terms of its architecture and sprawling designer landscape.
Florence is the city where the style of Renaissance began which means a new beginning. Florence Park Chandigarh by Ambika Realcon is a treat to the eyes. This new project is a new dawn of the old way of living. Flats in Chandigarh can't have been imagined like the way they have been brought to life. You will be flabbergasted to witness the proof of uniqueness with the beautiful designs in every corner of a home like a living room, dining room, bedrooms and the balcony. Each flat has been designed to face the park and natural green. Nature has been beautifully embraced within its modern infrastructure. Peace and Tranquility are what you will have every morning that continues throughout the day.
Luxurious Apartment in Mullanpur Area Of Chandigarh
The project has been constructed in Mullanpur area of Chandigarh which has been considered as one of the most desired locations by potential buyers. Considering the rapid development of the city, this area has been chosen and that is undoubtedly a great decision considering the premium feel of the locality. In Mullanpur, Real Estate Project has always marked its presence due to the lush green view it abounds. The beauty of the architecture amalgamated with the location makes Florence Park Chandigarh the most wanted residential complex to live in. The complex has 10 life-size towers with 19 floors in each. What else can one ask for? Meticulous details have been taken care of from earthquake resistant RCC framed structure to lobby flooring actualized with Italian marble and granite. In each detail, Italian structure of the building has been induced.
If you are looking for a premium 2 BHK and 3 BHK flats in Chandigarh, then there can be no better choice than Florence Park Chandigarh. Ambika Realcon has been deemed as one of the best property dealers in Chandigarh; therefore you will be in safe hands with this amazingly lavish complex of Florence Park Chandigarh. Gone are the days when a premium lifestyle could be afforded only by people who were billionaires. With this new project coming up, flats in Cdh are within the reach of non-billionaires too. The price for the flats ranges from Rs 41.34 lacs to Rs 54.41 Lacs. That is unbelievable, isn't it? The payment scheme is flexible too. This is just the one-third of the iceberg; we are yet to know about the amenities which can't be ignored when you are taking the decision of owning a luxurious apartment.
Amenities that have been included are world class. Apart from the basic amenities like 24 hours CCTV, power back up, lifts and round the clock security that are provided by real estates. Florence Park by Ambika Realcon ensures you live life king size with the chic and sophisticated. To find amenities such as cricket pitch and landscape garden with flats in Mullanpur is not a cake walk. With Florence Park Chandigarh, that definitely reaches the zenith of posh and premium living. You will have other amenities like sports facility with badminton court, jogging tracks and indoor stadium too. What more can one expect? Each flat has been given unique decor in order to avoid monotony. Pool for the toddlers is an adorable detail added to the concept of minute detailing. The USPs being the Creche or daycare, in-house restaurant, school and shopping center, the complex stands class apart.
The convenience of traveling to the important locations like office, schools, colleges, hospitals and other shopping complexes are added to the advantage of owning a home here. With gymnasium and yoga centers too in the complex makes it an ideal home for all age group.
You get so much in so less to spend that you can't be attracted to any other property in Mullanpur. Great location and impeccable amenities with luxury at its best are some of the key points you can't disregard when buying a flat in a posh location. There can be no better one for you than Florence Park.
Patience pays, this phrase is applicable in other context but not with the apartments in Florence Park Chandigarh by Ambika Realcon that are selling like hot cakes. Contact for early booking so you have the best one.