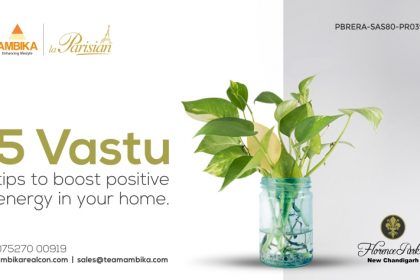 The Vastu Shastra in literal terms means the science of architecture. The traditional Hindu cultural lays special emphasis on the placement of objects and the specification of property to attract happiness & health. The blending of nature with material objects in your home is the quintessential basics of Vastu Shastra.
We offer our readers five Vastu tips for their property in Chandigarh to improve the energy vibes at home to improve the mood and energy at home: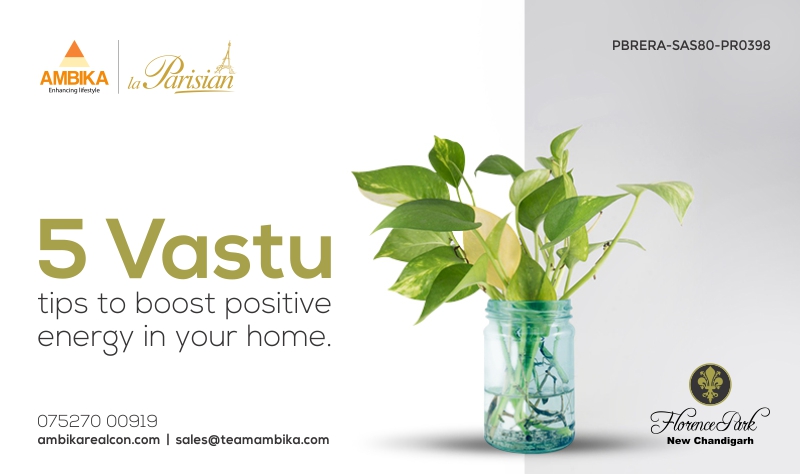 Improve wealth and income:
One of the common Vastu practices is by placing a yellow clay flowerpot in the south-west direction of your home. This will improve the saving and help generate additional wealth. In the south-east corridor of your home introduce the element of Fire – like kitchen stove, a permanent Diya or something to that degree. Install a photo or icon of goddess Laxmi that must also have four elephants in it.
Avoid these photos at home:
As per the Vastu one should avoid the picture of Mahabharata as it is believed to cause domestic chaos. Moreover, any picture with a Chariot and sea-shell must also be avoided. Pictures of dangerous animals that demonstrate terror or violence is a must no-no.
Remove these objects from home:
Certain objects broken that are broken or damaged must be removed from the home. A broken chair must either be repaired or removed immediately. Icons of gods and goddesses that are Khandit (even minor damage) must be removed from the house.
Money Plant at home:
The presence of the money plant at home is a good omen. However, certain cautions are needed in the placement of money plant. The plant should be placed in a blue glass bottle and is to be watered on daily basis. A money plant that dies is a bad sign. The money plant should be a climber and must not go on the ground. And most importantly a money plant should never be placed in the south-east corner of the room. South-west is the appropriate position for money plant as per the Vastu Shastra.
Colors in the home:
The combination of colors on walls, boundary wall, and the ceiling is the key for wealth & happiness. The north section of home denotes the element of water and should be painted in Blue. The south front signifies the Fire element and therefore the color of the walls should be red or pink. The eastern side represents the wind element and should be colored in Green. The west side walls of your home should be in white color or in a very light hue to represent the color of the sky.