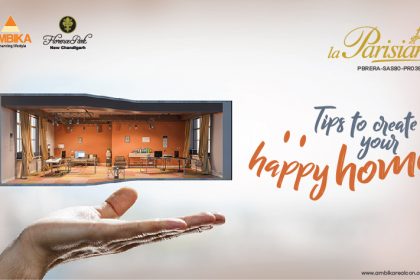 Home is always pictured in our minds as a place where we feel safe and happy. It triggers being your own self away from all the work and stress. For some, it's the feeling of being together with the family whereas some indulge themselves in the freedom of their single lives watching their favourite series and doing there home chores. But one thing remains a constant. The good vibe of home makes it a happy place for everyone.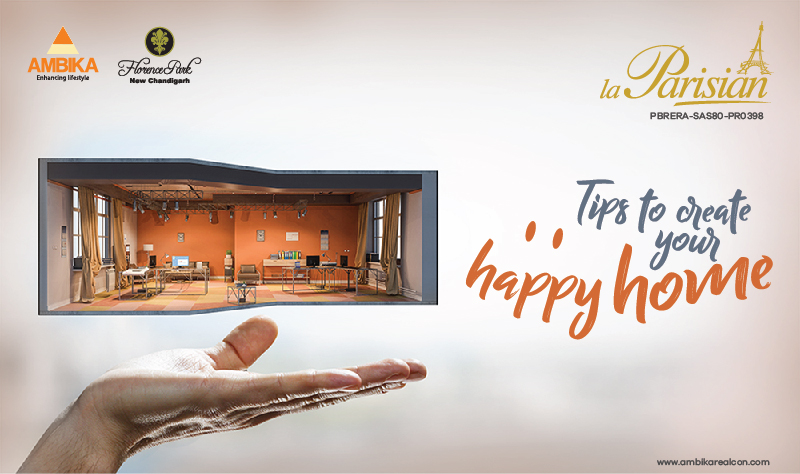 We have assorted some tips for you to create that happy space within your new home. Whether you live in an apartment or a bungalow, you can always make these changes to allow yourself the wonder of being awe-inspired by your cozy space.
Brighten Up:
Yes. Colors are a definite way to uplift your mood instantly (like coffee). Give your home a new paint therapy and if it's not possible to repaint the whole house then just go for one room that could use a spirit up with your favourite bright colour. Even if it is just one wall, go for it.
En-lighten yourself:
Well, not you exactly but you can choose to add some new lights, try out some creative lamp shades or even make yourself one using those DIY videos on Youtube. It will add a charm to your place.
Plant up:
Bring some green in the house. You may have heard it a gazillion times but having plants indoor uplifts your space. Have some indoor plants and flowers in your living space and share the good mood together.
Your calm place:
It doesn't have to be a lavish retreat in your home. A small corner would also do. But having a calm place where you can switch off all the gadgets and just sit and relax and maybe have some wine or two with your spouse. Or you can make it a meditation or yoga place to sooth your senses.
Sacred bathroom:
The bathroom is one place which gets you started for the day. Sadly, it is often most neglected. Add some incense to your bathroom or add an interesting piece of art but make it a place that refreshes not just the body but minds too.
The best location and deals that will save you all the unnecessary hidden costs. Now, find your own 3 bhk flats in Chandigarh for your family with top chart amenities and at unbeaten prices.